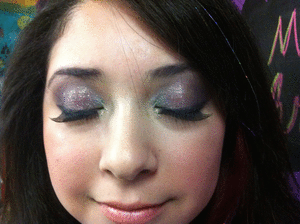 Online gif creator
It's New Year's Eve - do you have an eye plan yet? You know - make up? If there is one night of the year to wear glitter on your lids it's TONIGHT! Here is an easy way to add some sparkle to your eyes and personality too.
First wash your face. You'll need make up brushes, an eye concealer, foundation, shadow and eye glitter and lip gloss. And false eyelashes, you can't forget those!
Next add the lashes! As far as lips, we did a light gloss. special thanks to Maya from Maya in the Moment for being my model!
Happy New Year's!
Besos,
Dania, La beauty pie